Product Description
The GDW296 is a half duplex, transparent wireless modem with over the air rate 9600bps. It provides an RS232 compatible path without the user needing to format, code, detect or otherwise worry about modifying his existing data stream or providing extra control lines.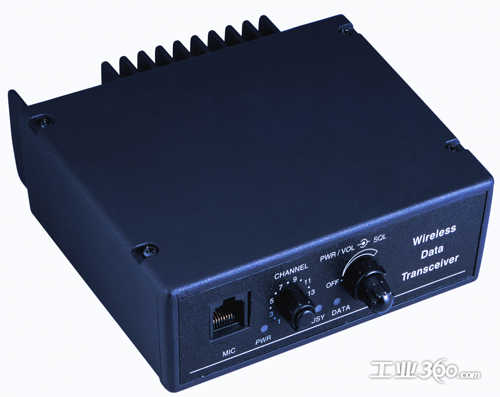 Wireless transceiver modules of GDW296 support common point-to-point and point-to-multipoint topologies. In long-range applications, wireless communication links offset the expenses and challenges inherent in running long cables.
These modems excel in performance, and will work reliably in the presence of interfering signals and strong nearby carriers.
Specifications
1. General
(1) Operating frequency range: 220-240 MHz
(2) Channel spacing: 25 KHz
(3) Number of channels: 16
(4) ANTENNA IMPEDANCE: 50 Ohm unbalanced
(5) OPERATING TEMPERATURE: -40 to +70℃
(6) FREQUENCY STABILITY TCXO: ±2ppm
(7)OPERATIONVOLTAGERANGE: 12V ( 11V to 14V ) DC
(8) STAND-BY CURRENT: 90mA
2. TRANSMITTER
(1) RF OUTPUT POWER: 10W programmable
(2) OUTPUT 2ND HARMONIC: less than –65dB
(3) SPURIOUS EMISSIONS: less than 0.25uW (30MHz to 1GHz)
(4) MAXIMUM FREQUENCY DEVIATION: ±5KHz
(5) REFERENCE OSCILLATOR: TCXO
(6) RF IMPEDANCE: 50 Ohm unbalanced
(7) CURRENT DRAIN:6.0A @25W output power
(8) FM HUM AND NOISE RATIO: greater than –50dB
(9) AUDIO FREQUENCY DISTORTION: 3% 1KHz for 3KHz deviation
(10) AUDIO FREQUENCY RANGE: 300Hz to 3400Hz ±2dB
(11) TRANSMITTER ATTACK TIME: less than 7 ms
2. RECEIVER
(1) TYPE OF RECEIVER:Crystalcontrolled double, super heterodyne
(2) INTERMEDIATE frequency: 45MHz(1st IF), 455KHz(2nd IF)
(3) SENSITIVITY: Better than 0.2uV @12dB SINAD
(4) SQUELCH SENSITIVITY: 0.1uV to 1uV programmable
(5) ADJACENT CHANNEL SELECTIVITY: greater than –70B
(6) SPURIOUS AND IMAGE REJECTION: greater than –70dB
(7) OUTPUT AUDIO DISTORTION: 3% at 1KHz for ±5KHz deviation
(8) FM HUM AND NOISE RATIO: greater than 40dB
3. Data and Interface
(1) MODULATION: MSK
(2) AIR RATE: 9600bps programmable
(3) INTERFACE BAUD RATE: 1200bps/2400bps/4800bps/9600bps programmable
(4) INTERFACE DATA BIT: 8 /7bit
(5) INTERFACE PARITY BIT: None / Even / Odd
(6) INTERFACE STOP BIT: 1/2 bit