Product Description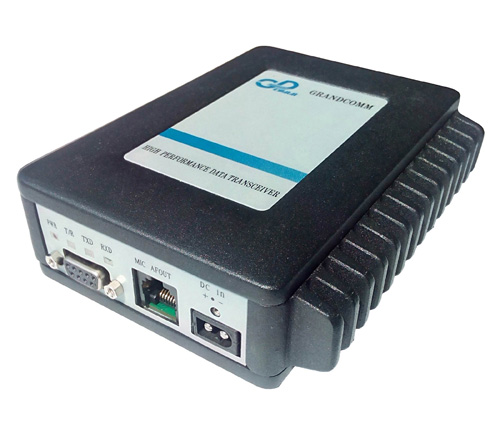 GrandComm's GD49K6 is a 9600bps air rate radio modem with RS485 port for communicating with the devices they are connected.
These radio modems are especially well suited for packet radio communications like SCADA systems. With GD49K6 radio modems, you can transfer files, monitor remote operations, send control command and use numerous other packet radio applications. . They can receive the radio waves without any loss of data and saves huge wiring expense and maintenance costs.
Each radio modem can store 60 channels, and multiple radio pairs can operate at the same location without interference.
Specifications
1. General
(1) OPERATINGFREQUENCYRANGE: 220-240MHz
(2) Number of channels: 60
(3) ANTENNA IMPEDANCE: 50 Ohm unbalanced
(4) OPERATING TEMPERATURE: -40 to +70℃
(5) FREQUENCY STABILITY TCXO: ±2.0ppm
(6) OPERATION VOLTAGE RANGE: 12V (11V to 14V) DC
(7) STAND-BY CURRENT: 90mA
2. TRANSMITTER
(1) RF OUTPUT POWER: 25W programmable
(2)RECEIVER ATTACK TIME: <10ms
(3) AUDIO FREQUENCY RANGE: 300Hz to 3400Hz ±2dB
(4) SPURIOUS EMISSIONS: less than 0.25uW (30MHz to 1GHz)
(5) OUTPUT 2ND HARMONIC: less than –65dB
(6) MAXIMUM FREQUENCY DEVIATION: ±5KHz
(7) REFERENCE OSCILLATOR: TCXO
(8) RF IMPEDANCE: 50 Ohm unbalanced
(9) FM HUM AND NOISE RATIO: greater than –50dB (under normal condition)
2. RECEIVER
(1) TYPE OF RECEIVER:Crystalcontrolled double, super heterodyne
(2) INTERMEDIATE frequency: 45MHz (1st IF), 455KHz (2nd IF)
(3) SENSITIVITY(12 dB SINAD) : less than 0.2uV
(4) SQUELCH SENSITIVITY: 0.1uV to 1uV programmable
(5) ADJACENT CHANNEL SELECTIVITY: greater than –65dB
(6) SPURIOUS AND IMAGE REJECTION: greater than –65dB
(7) OUTPUT AUDIO DISTORTION: 3% at 1 KHz for ±5KHz deviation
(8) FM HUM AND NOISE RATIO: greater than 40dB
(9) SQUELCH SENSITIVITY: 0.3uV
3. Data and Interface
(1) MODULATION: GMSK
(2) AIR RATE: 1200 to 9600 bps programmable
(3) INTERFACE DATA BIT: 8/7 bit
(4) INTERFACE PARITY BIT: None / Even / Odd
(5) INTERFACE STOP BIT: 1 / 2 bit programmable