Product Description
GD8000 radio modem offers RS-232 interfacing wireless data transmission with the air rate of 8000bps. Radio modems with RS232 serial ports are used to connect a master station to one or more PLC based slave stations. GD8000 radio modems provide wireless data communication systems with compact size, portability, low power consumption and low cost solutions.
The data the radio modems communicate may be telemetry signals from GPS position, remote control signals, a transducer, computer communications, or a host of other digital messages.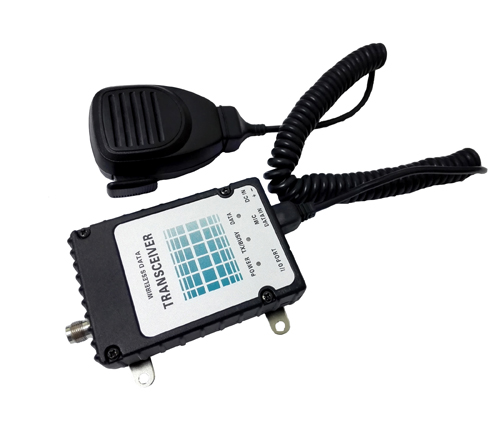 Specifications
1. General
(1) Operating frequency range: 150 MHz to 174MHz
(2) Channel spacing: 25KHz.
(3) Number of channels: 60
(4) ANTENNA IMPEDANCE: 50 Ohm unbalanced
(5) OPERATING TEMPERATURE: -40 to +70℃
(6) FREQUENCY STABILITY TCXO: ±2.5ppm
(7)OPERATIONVOLTAGERANGE: DC 11V to 14V ( Typical 12V )
(8) STAND-BY CURRENT: 90mA
2. TRANSMITTER
(1) RF OUTPUT POWER: 5W/10W/ 25W programmable
(2) OUTPUT 2ND HARMONIC: less than –65dB
(3) SPURIOUS EMISSIONS: less than 0.25uW (30MHz to 1GHz)
(4) MAXIMUM FREQUENCY DEVIATION: ±5KHz
(5) REFERENCE OSCILLATOR: TCXO
(6) RF IMPEDANCE: 50 Ohm unbalanced
(7) CURRENT DRAIN: 5.0A @25W output power
(8) FM HUM AND NOISE RATIO: greater than –50dB
(9) AUDIO FREQUENCY DISTORTION: 3% 1KHz for 3KHz deviation
(10) AUDIO FREQUENCY RANGE: 300Hz to 3400Hz ±2dB
(11) TRANSMITTER ATTACK TIME: less than 20ms
2. RECEIVER
(1) TYPE OF RECEIVER:Crystalcontrolled double, super heterodyne
(2) INTERMEDIATE frequency: 45MHz(1st IF), 455KHz(2nd IF)
(3) SENSITIVITY: Better than 0.2uV @12dB SINAD
(4) SQUELCH SENSITIVITY: 0.1uV to 1uV programmable
(5) ADJACENT CHANNEL SELECTIVITY: greater than –70dB
(6) SPURIOUS AND IMAGE REJECTION: greater than –65dB
(7) OUTPUT AUDIO DISTORTION: 3% at 1KHz for ±5KHz deviation
(8) FM HUM AND NOISE RATIO: greater than 40dB
3. Data and Interface
(1) MODULATION: GMSK
(2) AIR RATE: 8000bps bps programmable
(3)INTERFACE BAUD RATE: 1200bps /2400/4800bps/8000bps programmable
(4) INTERFACE DATA BIT: 8 bit
(5) INTERFACE PARITY BIT: None / Even / Odd
(6) INTERFACE STOP BIT: 1bit