Product Description
GD-192-232is a light-industrial grade serial RS232 RF radio modem with air rate of 19200bps.It allows reliable point to point, or point to multi-point communicationsbetween two or more devices at different locations.
The parameters of the RS232 radio modems can be configured through the serial portby using the downloadable configuration utility.With the configuration software each RS232 radio modem can be configured as customized data settings which includes baud rates, parity bit, stop bit and channel frequency.
GD-192-232 is an excellent choice for remote sensing and control applications.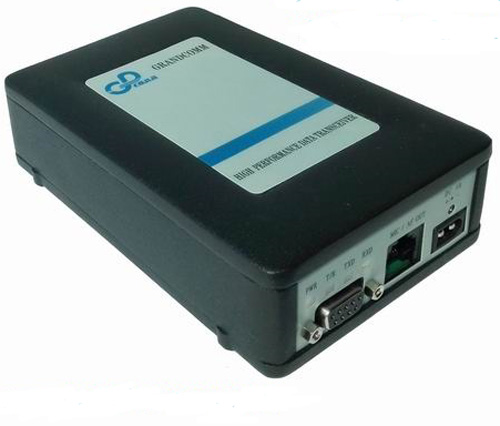 Specifications
1. General
(1) Operating frequency range: 400 to 440 MHz
(2) Channel spacing: 25 KHz or 12.5KHz
(3) Number of channels: 60
(4) ANTENNA IMPEDANCE: 50 Ohm unbalanced
(5) OPERATING TEMPERATURE: -40 to +70℃
(6) FREQUENCY STABILITY TCXO: ±1.5ppm
(7) OPERATION VOLTAGE RANGE: 12V DC ( 11Vdc to 14.5V DC)
(8) STAND-BY CURRENT: 85mA
2. TRANSMITTER
(1) RF OUTPUT POWER: 5W to 25W programmable
(2) OUTPUT 2ND HARMONIC: less than –65dB
(3) SPURIOUS EMISSIONS: less than 0.25uW (30MHz to 1GHz)
(4) MAXIMUM FREQUENCY DEVIATION: ±5KHz
(5) REFERENCE OSCILLATOR: TCXO
(6) RF IMPEDANCE: 50 Ohm unbalanced
(7) CURRENT DRAIN: 6.0A @25W output power
(8) FM HUM AND NOISE RATIO: greater than –50dB
(9) AUDIO FREQUENCY DISTORTION: 3% 1KHz for 3KHz deviation
(10) AUDIO FREQUENCY RANGE: 300Hz to 3400Hz ±2dB
(11) TRANSMITTER ATTACK TIME: less than 7ms
2. RECEIVER
(1) TYPE OF RECEIVER: Crystal controlled double, super heterodyne
(2) INTERMEDIATE frequency: 45MHz(1st IF), 455KHz(2nd IF)
(3) SENSITIVITY: Better than 0.2uV @12dB SINAD
(4) SQUELCH SENSITIVITY: 0.1uV to 1uV programmable
(5) ADJACENT CHANNEL SELECTIVITY: greater than –70dB
(6) SPURIOUS AND IMAGE REJECTION: greater than –65dB
(7) OUTPUT AUDIO DISTORTION: 3% at 1KHz for ±5KHz deviation
(8) FM HUM AND NOISE RATIO: greater than 40dB
3. Data and Interface
(1) MODULATION: GMSK
(2) AIR RATE: 19200 or 9600bps programmable
(3) INTERFACE BAUD RATE: 600 - 38400 bps programmable
(4) INTERFACE DATA BIT: 8 / 7 bit
(5) INTERFACE PARITY BIT: None / Even / Odd
(6) INTERFACE STOP BIT: 1 / 2 bit